Soya Protein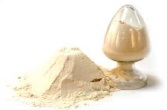 Process Enterprises offers premium quality Soya Protein, which is made from finest quality dehulled and defatted Soya Flakes.
Soya Protein has long history of use as an emulsifier and a texturizer in a variety of food and meat products. Popularity of Soya Protein has increased in recent past due to its immence health benfits. Soya Protein can help to prevent heart diseases as it has very low fat and is free from cholestrol.
Due to its nutritional values, Soya Protein is used in a variety of Food and Meat preaparions. It is also extensively used in Pharmaceutical and Health Food manufacturing.
We offer following types os Soya Protein:
Soya Protein Isolate
Soya Protein Concentrate
Soya Protein (50%)
Feed Grade Soya Protein