Alkyd Resin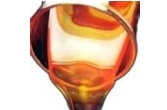 We offer Soyabean Oil based Alkyd Resin for Paints and Printing Inks.
Alkyd Resin are used in manufacturing of a wide variety of paint products which find applciations in decorative paints, maintenance paints, varnish, and contractor paints.
Alkyd Resin is one of the most widely used resin in manufacturing industrial paint products. Alkyd Resin based paints provide excellent gloss, good durability, good heat resistance, excelleng light resistance, good corrosion resistance, outdoor ageing resistance as well as acid resistance, alkali resistance, salt water resistance, oil resistance, detergent resistance, etc.