Soya Flakes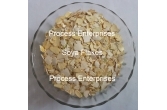 Soya Flakes are also known as De-Oiled Cake (Food Grade) of the Soybeans. Soya Flakes are used in several Food and Meat Processing applications as well as in burger patties, breakfast bars and cereal, etc. Soya Flakes are also used to manufacture Soya Sauces of different kinds.
We offer premium Non-GMO Food Grade Soya Flakes (certified Non-GMO):
Defatted Soya Flakes Toasted
Defatted Soya Flakes Untoasted
In addition, we also offer a special feed grade of Soya Flakes which is mainly used in manufacturing cattle feed and poultry feed products.