Soya Flour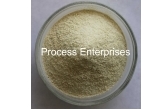 Soya Flour is made from the De-Oiled Cake of the Soybeans. Soya Flour has applications is several products like bakery, confectionery, candy, cakes, ready to eat food, instant food mixes, meat products, pasta/macaroni, burger patties, breakfast bars and cereal, etc.
Soya Flour is normally added to increase the protein content of the food items. Soya Flour also acts as an emulsifier in dough based products as it makes the dough smoother, uniform and less sticky. Adding Soya Flour improves the texture and also increases the shelf life the finished products.
We offer premium Non-GMO Food Grade Soya Flour (certified Non-GMO):
Defatted Soya Flour Toasted
Defatted Soya Flour Untoasted
Full Fat Soya Flour (Enzyme Active)
We offer Feed Grade Soya Flour:
Poultry Feed Grade Soya Flour
Cattle Feed Grade Soya Flour
Aqua Feed Grade Soya Flour
In addition, we also offer a special industrial grade of Soya Flour which is mainly used in adhesives, tapes, explosives, laminates, plywood manufacturing etc.